State of 3D Printing 2016
State of 3D Printing 2016
Sculpteo's 2nd annual report on 3D Printing and Digital Manufacturing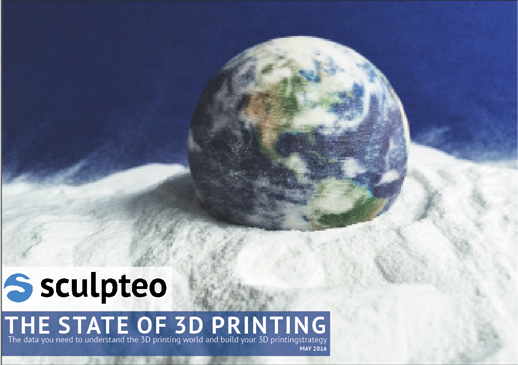 ABOUT THE REPORT
Sculpteo surveyed nearly 1,000 3D printing users and professionals at virtually all levels, across all industries, and around the world. We asked what they do, why they do it, how they do it, and if it's working. This report breaks it all down.
What is the ROI of 3D Printing?

What is your top 3D Printing priority?

How do you use 3D Printing as a competitive advantage?
are some of the topics we covered with these professionals.
The Results: 3D Printing Priorities
Globally, 3D Printing users are increasing their expenses in 2016 as they did in 2015, as they use 3D Printing as a competitive advantage in product development but also for production. 3D Printing is used for more purposes and by more people in the company. 3D Printing users are looking for hiring additive manufacturing experts that can push their efficiency one step further.
More than just a report, the State of 3D Printing is a practical guide to CEO's, engineers, designers, marketers, educators and hobbyists to make sure they ask themselves the right questions and show them what best practice looks like in their industry.
You'll learn:
How companies are adjusting their expenses in your industry

What the different uses of 3D printing in your own industry are

More about the most used materials for your sector
You'll get also inspired by the best practices and strategies implemented by the 3d Printing experts. You'll discover how the 3d Printing priorities evolved between 2015 and 2016, and what will be the major trends for 2016.