Become a Sculpteo affiliate
Join our affiliate program and start earning money for every sale you send our way!
Registration is free, quick and easy to set up. Simply create your account and fill in the required information. Then we will send you an Associate ID. You just need to add this ID in any links you create to sculpteo.com. Once these links are created, simply watch your account balance grow as your visitors become our customers.
On this page you'll find out how to:
Become an affiliate
How does it work?
The process is very simple. Once you register, we send you the Associate ID to be added in all links you create that link to our site. This Associate ID allows us to detect customers coming from your site, and thus to pay your commission each time they order a 3D print.
Here is the process :
Visitor clicks on an affiliate link on your site or in an email.

A cookie is automatically placed in the user's browser for tracking purposes for 25 days. This allows us to detect that the customer came from your website even if he/she orders several days after clicking on your link.

The visitor browses our site, and may decide to order.

If the visitor orders, the order will be registered as a sale for you and you will receive a commission of 5% for the sale.

You can follow your commission in your account, in the " your affiliate account information " section.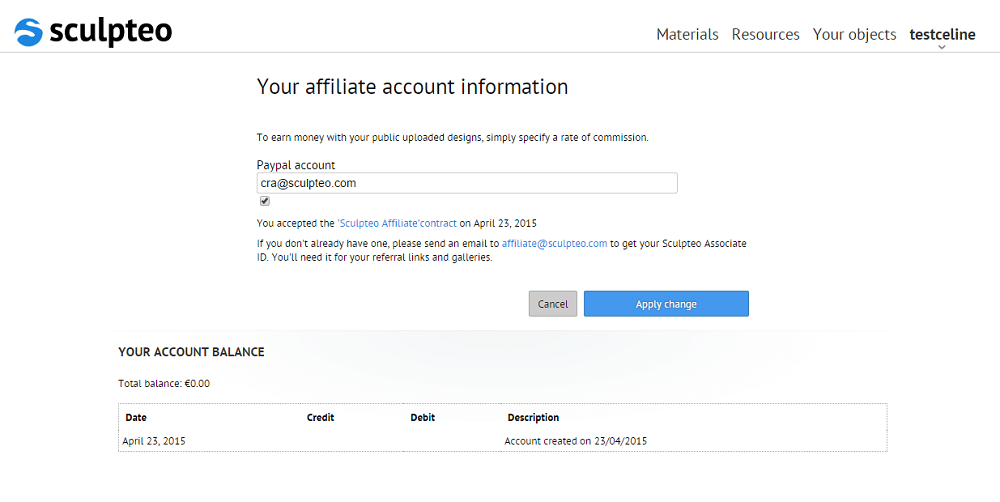 Register for our affiliate program
Joining the Sculpteo Affiliate program is quick, free and easy. Just complete the following steps.
Create a Sculpteo account and register your PayPal account . It will be used to pay your commission every month.
Then, accept the " Sculpteo Affiliate contract "
The last step is to send us an email to affiliate@sculpteo.com with your Sculpteo username as well as the URL and a description of your website. This way, we will be able to create and send you your Associate ID.

You will get your Associate ID shortly thereafter.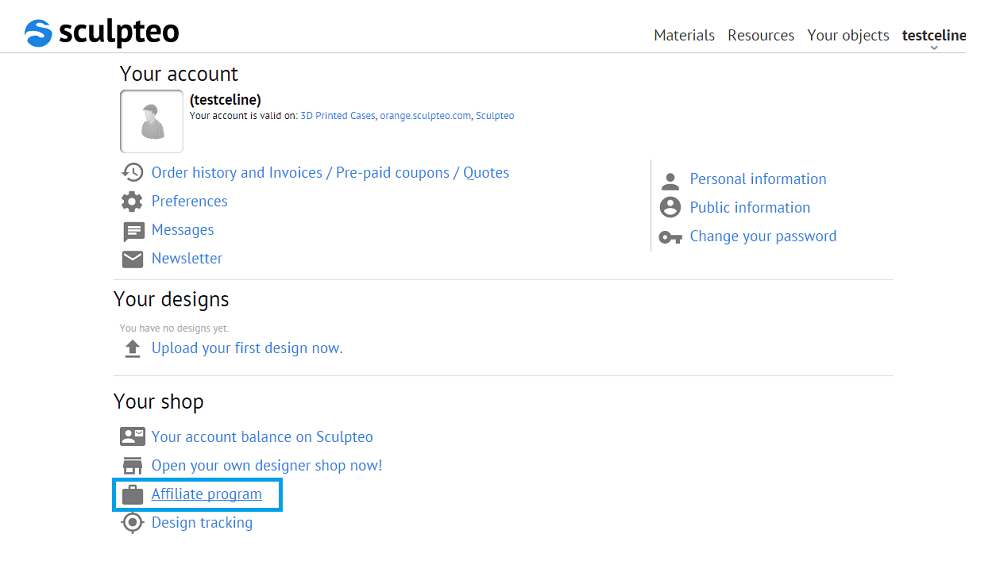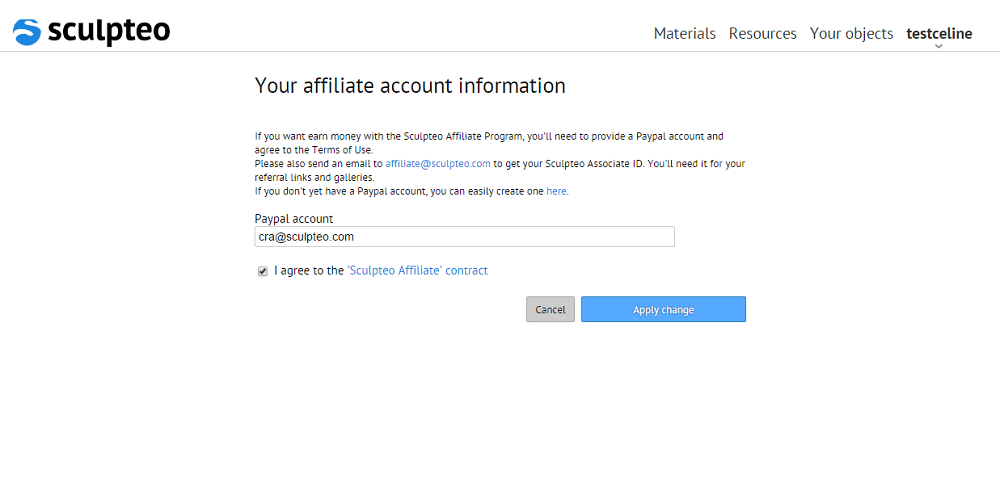 Sculpteo reserves the right to refuse any request viewed as "abusive", in other words, if the applicant's web-site presents content contrary to the spirit and values of Sculpteo or susceptible to damage its image. For more infomation, please check our Content policy page.
Create Affiliate links
Creating a simple affiliate link is just a matter of taking the link and adding the affiliate ID at the end of the link like in the following example:
//www.sculpteo.com/en/upload_design/3D/ ?affiliate=YOURID
"YOURID″ is the affiliate ID in the above example. It should be replaced by the one we'll send you by email. Then, you can send the link you created via email or add it on your website. Whenever anyone clicks it and lands on Sculpteo website, the clicks will be recorded alongside your affiliate ID
Here are some examples of text ads using the link //www.sculpteo.com/en/upload_design/3D/?affiliate=YOURID
Sculpteo online 3D printing service. 45 materials available – worldwide shipping.
Make your creation real. 45 materials available + free tools – fast delivery and worldwide shipping.
3D-print your figurine! 45 materials available – fast delivery and worldwide shipping.
Sell 3D models on your website by being an affiliate
Embed a Design as an Affiliate
You can also promote a specific design by embedding Sculpteo galleries, product pages or 3D viewers into your website.
To learn more, you can refer to our guide on how to easily embed Sculpteo tools onto your website .
In particular, you can find embedding information on each product page. The embed link is under the 3D Viewer, and offers you an options tab. You can choose:
Size of the viewer in px (250 / 300 / 420 / 640)

Background color

Panel borders (with or without)

3D technology used for the viewer ("Auto" will try to choose the best technology for your visitor's hardware)

Kind of action generated by the click (details : display product details / gallery : display your public gallery / none)
Your configuration choice will automatically update the code that you copy and paste to embed the 3D viewer.

For instance, here is the link you would use to embed Sculpteo robot in a 640px 3D viewer, with a black background, and with a click displaying product details :
<iframe class="sculpteo-viewer" type="text/html" width="640" height="700" src="//www.sculpteo.com/embed/design/khz8bRKM?bgcolor=000000" frameborder="0" scrolling="no"></iframe>
Then, you just have to add your Associate ID at the and of the URL, as shown in the following example, using YOURID ID:
<iframe class="sculpteo-viewer" type="text/html" width="640" height="700" src="//www.sculpteo.com/embed/design/khz8bRKM?bgcolor=000000 &affiliate=YOURID " frameborder="0" scrolling="no"></iframe>
You can see the result on the following page : embedded 3D viewer demonstration .
More complete integration options
More complete integration options are available for more advanced users and webmasters. To learn more, please refer to our documentation explaining how to embed more advanced Sculpteo tools .
Ask us your questions about affiliation
If you have questions about our affiliation program, please contact us at affiliate@sculpteo.com . We will be happy to help you.
×