Discover our Expert User status for 3D printing
We created the Expert user status so that those of you who have experience with our services and understand the limits of our production techniques, can be provided with an adapted service, and unlock exclusive advanced features. These features accelerate your orders and reduce iteration between you and our support teams. The features now enabled by the Expert User status are "Print it anyway" and "Customize Orientation".



How to become an Expert user?
It's actually very simple to become an Expert User: you need at least five successful orders with us (meaning: your parts respected the requirements and could be printed). Once you have those five successful orders, you're automatically granted the Expert user status and will be notified by email.
This status is automatically shown in 'Your Account' under your username:
If you are already an Expert User, you will find the sentence 'I am an expert'.
In case you aren't an Expert User yet, we are giving you the amount of 3D printing orders left until you automatically become one.
If you decided to not be an Expert User anymore, nothing is displayed.
The two features now enabled by our Expert User status are 'Print it Anyway' and the "Customize Orientation" option.
What is 'Print it anyway'?
When you're placing an order, before checkout, our platform automatically realizes a solidity check of your part, to make sure it's not too fragile and it won't break during production or shipping. It shows you where the part needs to be made stronger, and we might prevent you from ordering if we consider we can't make the part the way you want it while respecting our quality standards.
The 'Print it Anyway' feature gives you the option to go around this solidity check, and, even if your part may be fragile, print it anyway. Because we consider you're an expert when it comes to our services, we give you more leeway to experiment with the possibilities of the machines, and try and push the limits further.
By choosing to use it, you take the risk of breakage, of course, but you also give yourself the opportunity to learn about what's possible and how far you can go. If the piece is damaged during production or post-processing, you'll receive all pieces that we could recover so that you can learn more about any issues with your designs. The design may still be rejected if it poses a significant risk of production failure. In this case, you'll receive a full refund.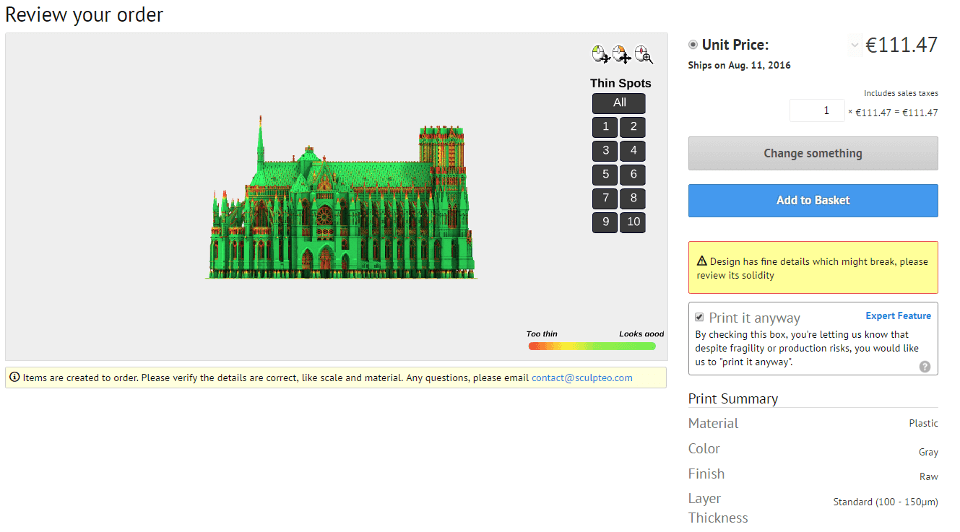 How does 'Print it Anyway' work?
Once you are granted the Expert User status, the 'Print it Anyway' checkbox will appear at the last step of your order, when you've uploaded your file and the solidity check has been made. You can choose to tick that box if your part is too fragile but you want to take the risk and print anyway.
As a default setting, this box will be unchecked, and you'll tick it on a per print basis. You can choose to have it checked as a default setting in order to produce all of your orders with this option: simply go to your preferences (in the "My account" page), you will then be able to tick the box "Always Print it anyway", which will automatically select the 'Print it Anyway' feature, for each one of your orders. It is opt-in and you can change your mind at any time here simply by unchecking this option in your preferences.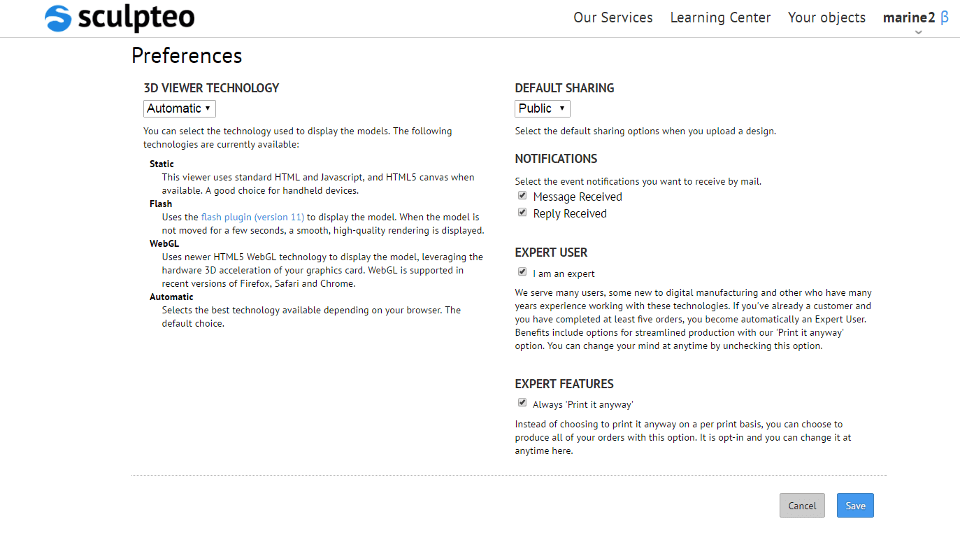 What is the "Customize Orientation" Option?
With this option, you can choose the orientation that your part will take while being 3D printed. This has an impact on the way the 3D printing layers are visible on your finished part.
To use this option, all you have to do is (once you've uploaded your file and you're on the print page) click on "Orientation" on the left side of the 3D viewer.
Then, your 3D viewer will display direction tools, that you can use to change your part's orientation, as shown in this video:
To learn everything about the Customize Orientation option (its use, and how to activate it), read
this blog articl
e
.
×