Cardboard - Laser Cutting and Engraving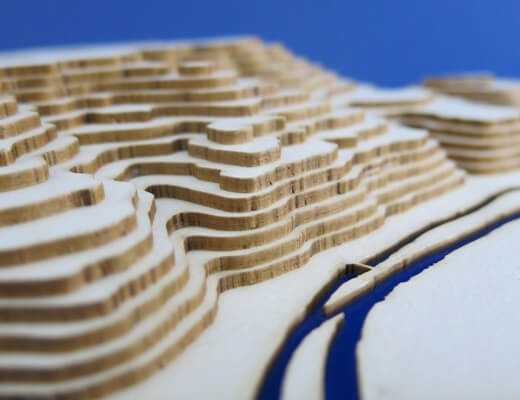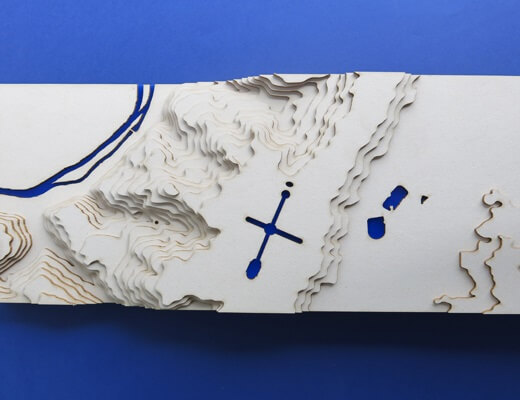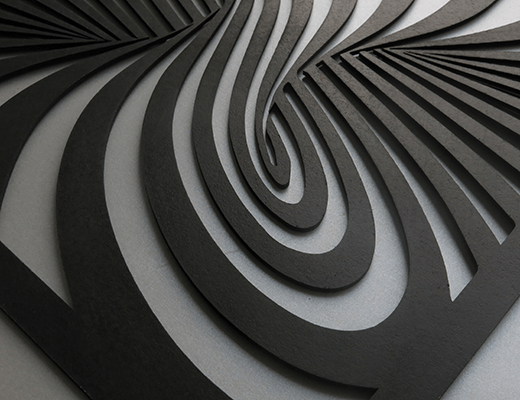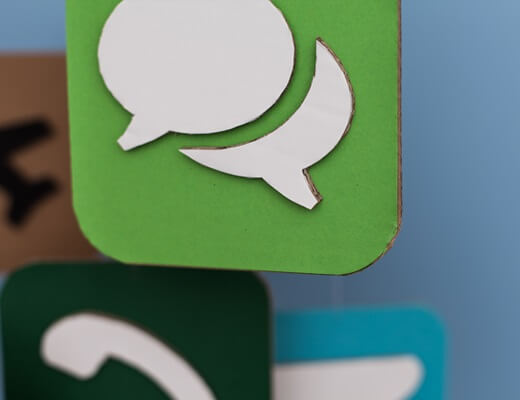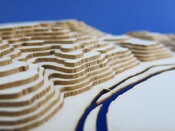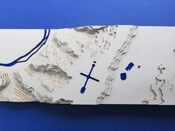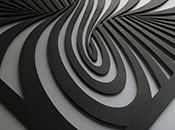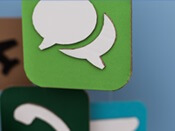 Corrugated

Grey

Cellulose
Overview
Here you will find all the information, tricks, know-how, and advice to help you laser cut and laser engrave your model in our cardboard material. You will learn about the:
General information on our material
About the cardboard material
Cardboard is a light and rigid material. It has the same origin as regular paper. It is conceived by laminating flat, embossed or corrugated paper sheets of different thicknesses. Cardboard is a general term which actually refers to several types of materials: corrugated cardboard (the most common one), grey cardboard, wood cardboard and cellulose-based cardboard. Because it allows to adjust the amounts of cellulose pulp and fibers, cardboard offers a wide range of possibilities. At Sculpteo, we provide:

Corrugated cardboard (simple and double)

Grey compact cardboard

Cellulose compact cardboard
Cardboard has the great advantage, compared to other materials, of being inexpensive. Easy to work with, it can be cut, folded and allows different types of assembly (glue, staples, etc.). Thanks to laser cutting or engraving, numerous uses of it have become available (see the uses for more information).
Made from wood fiber, cardboard is also especially ecological. It's easy and economical to produce, and light to convey. It is recycled, recyclable and biodegradable.
However, cardboard has a low resistance to humidity and fire, unless it receives a specific treatment.
Please take a note that laser cuts the wood under a slight angle which may be visible on thicker parts.

Price and timelines for laser cutting and engraving
Your laser cutting and engraving price is calculated automatically when you upload your vector file onto our website. It varies depending on factors like the amount of material used, the machine time needed and logistic costs. Once you've uploaded the file, you can make some edits on it, and see the price evolve accordingly, directly on the platform. In order to receive your model in a few clicks, you only need to login and upload your vector file .
Laser cutting and engraving time is around 2 working days for cardboard . An added 24 to 48 hours may be needed depending on the vector file's size. The definitive manufacturing time is indicated on our website when you complete your order.
Delivery time is added to cutting or engraving time and depends on the delivery option you've chosen.

Cutting techniques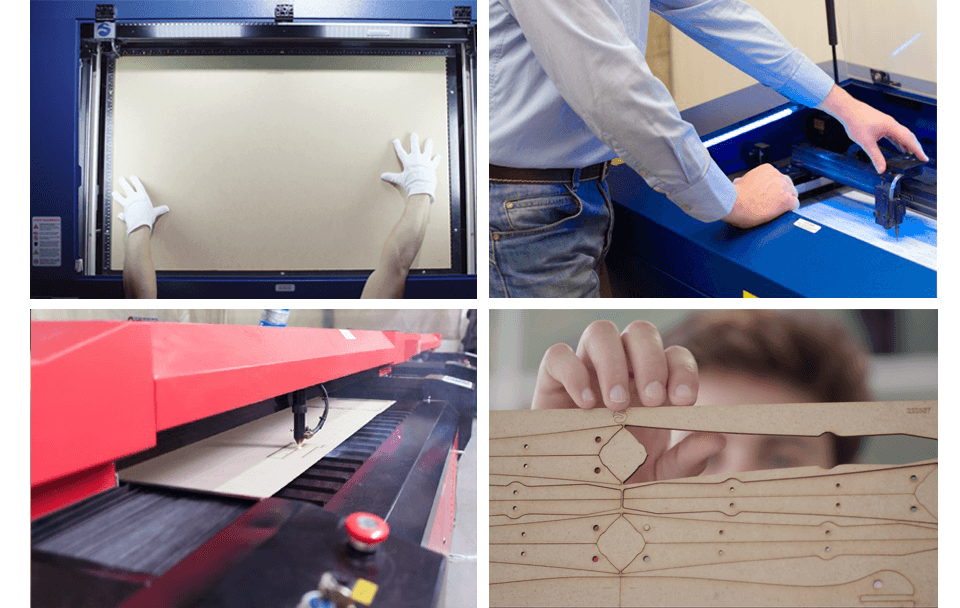 Laser cutting consists in cutting matter using a powerful and precise laser, concentrated on a reduced area. The laser can cut up to 15 mm in thickness. There are several power sources for lasers. They can be continuous or pulsated. The kerf left by the laser when cutting cardboard is small. The cut pieces aren't much deformed because the heat affected zone is very small on cardboard (around 0,5 mm).
At Sculpteo, we use 100W CO 2 source laser cutting machines because they allow to cut all types of material at high speeds.
Engraving techniques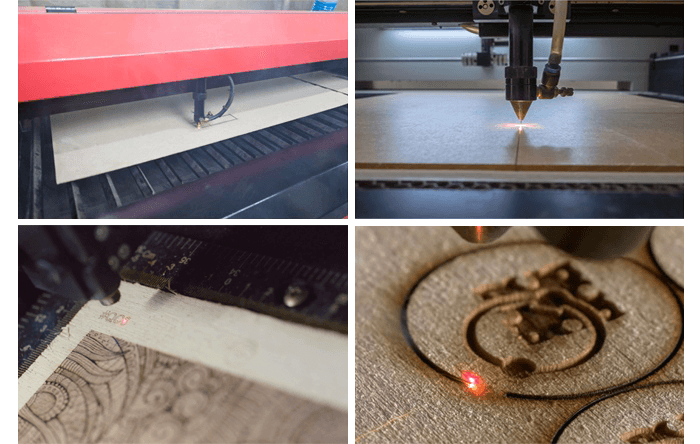 Laser engraving is a subtractive manufacturing method, based on the use of a laser beam that alters an object's surface. This process allows to create images visible to the naked eye on the object. The laser emits a heat high enough to pulverize matter, creating the cavities that will make up the final image. It's a quick method, since matter is removed with each pulse of the laser.

When you import your vector file, we establish, under your control, which zones are to be engraved and which are to be cut. For more information, check out our information about transferring a vector file .
Uses and maintenance

Cardboard is easy to use and to get familiar with. It is possible to go from neophyte to expert rather quickly. Very malleable, cardboard allows to efficiently get a result that is both economical and aesthetically pleasing.
There is a common belief that cardboard is made for packaging only. In reality, it can be used for a multitude of other purposes, such as furniture, structures, etc. Thanks to laser cutting, we uncover new possible uses of the material: digital printing, packaging prototypes manufacture, modelisation (shapes, drawings), scrapbooking, etc. Cardboard allows direct printing, which some other materials don't. This enables silkscreen printing, offset printing, flexography, heliogravure, lamination, etc.
Easy to repair and to store, cardboard will serve your creative and prototyping projects. It is adaptable to various constraints and can multiply its possibilities thanks to processes like film-coating (protection, waterproofing, food contact readiness, etc.), varnishing or laminating (brilliance), gilding (luxury packaging).
As for maintenance: keep your creation/object away from any source of humidity. Cardboard is highly inflammable, therefore it also needs to be kept away from known or potential sources of heat.
Thicknesses and types
Thicknesses and types offered by Sculpteo

There are several types of cardboard, depending on the structure and origin of the material. As stated above, we offer three of them:
Corrugated cardboard : paper sheets of various thicknesses alternated between flat and corrugated sheets. Corrugated cardboard is the most often used and can serve different purposes, including furniture for instance.

Grey compact cardboard : rigid and thick, grey cardboard is ideal for cardboard crafting, binding, framing, displays and lithography.

Cellulose compact cardboard : framing, binding and model building.
We provide several thicknesses for the different types of cardboard:
Thicknesses (mm)
0,7
1
2
2.8
6.7
Types of
carboard
Corrugated simple

unavailable

unavailable

unavailable

short lead time

unavailable

Corrugated double

unavailable

unavailable

unavailable

unavailable

short lead time
Grey Compact

unavailable

short lead time
short lead time

unavailable

unavailable

Cellulose Compact
short lead time

unavailable

short lead time

unavailable

unavailable
Short lead time = 1 to 3 days
Painting and gluing your cardboard pieces


The adequate paint for cardboard is acrylic paint. You have several possibilities if you wish to paint a surface: one with 100% paint, one with paint + paper, the third with 100% paper. Cardboard can absorb the paint: make sure not to dilute it too much.
As for gluing cardboard, using a glue-gun is a good idea. However, you need to be fast, because the glue dries in less than 10 seconds. The structure thus assembled will be very resistant.
Design Guidelines
Laser Precision for Laser Cutting and Laser Engraving
Laser cuts and engraves material by burning its surface. Therefore, the sides of the piece tend to be darkened, and are marked slightly on the edges. When burning the surface, the laser also leaves a kerf of a width that can vary, depending on the type of material and the thickness chosen.
When designing your project, you need to take this kerf into account, and plan for a surplus of material accordingly.
The following chart lists the kerf sizes for cardboard as a function of thickness.
| Thickness of Cardboard (mm) | 0,7 | 1 | 2 | 2,8 | 6,7 |
| --- | --- | --- | --- | --- | --- |
| Width of the kerf (mm): Corrugated | 0,075 mm | 0,075 mm | 0,075 mm | 0,075 mm | 0,075 mm |
| Width of the kerf (mm): Grey | 0,075 mm | 0,075 mm | 0,075 mm | 0,075 mm | 0,075 mm |
| Width of the kerf (mm): Cellulose | 0,075 mm | 0,075 mm | 0,075 mm | 0,075 mm | 0,075 mm |
About the laser's precision and its effect on the material, you also need to keep in mind that your object might get some burning stains on their inner side.
Maximum and minimum dimensions for cuts and engraving
| | |
| --- | --- |
| Minimum dimension | 15 x 15 mm |
| Maximum dimension: wood and grey | 780 x 580 mm |
| Maximum dimension: corrugated | 940 x 565 mm |
Minimal dimensions may be necessary for laser cutting, but not for engraving. When you load your design onto our website in order to have it cut, we can't detect, based only on the information contained in the file, whether you wish to keep the outer or inner surface. Therefore, if you wish to keep the inner surface, you must respect minimal dimensions. Indeed, if the surface is too small, it could be lost under the cutting table's grid. If you wish to keep only the outer surface, this constraint does not apply.
Warning
Be very careful to respect the minimum size of 15x15 mm: objects of this size are all susceptible to not be delivered.
Warning
Disclaimer: due to the machine's process, some marks and scratches may occur on your object.
Minimum distance between two vector paths for Laser Cutting and Laser Engraving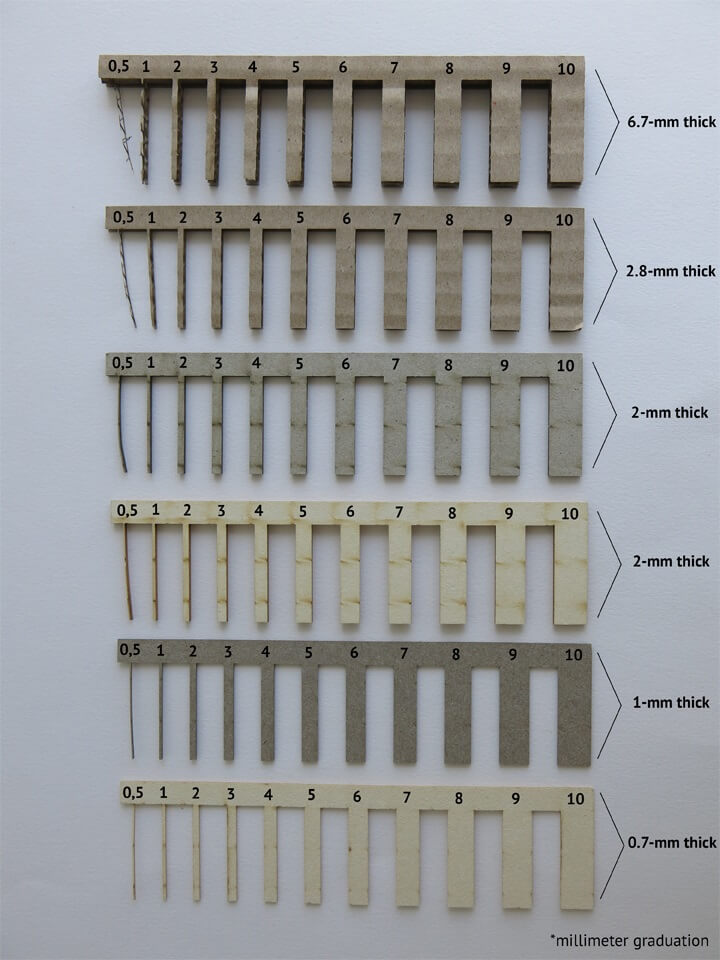 Because of the kerf created by the laser, a minimum distance is required between two lines, whether it is for cutting or engraving, in order to prevent the lines from touching or mixing.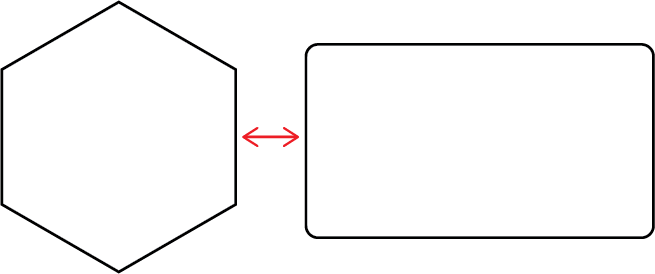 This table gives you the minimum distance not to forget in your design, depending on the thickness of the material :
| Thickness of Cardboard (mm) | 0,7 | 1 | 2 | 2,8 | 6,7 |
| --- | --- | --- | --- | --- | --- |
| Minimum distance between two paths (mm): Corrugated | 1 | 1 | 2 | 3 | 7 |
| Minimum distance between two paths (mm): Grey | 1 | 1 | 2 | 3 | 7 |
| Minimum distance between two paths (mm): Cellulose | 1 | 1 | 2 | 3 | 7 |
You can refer to our tutorial for more precision and guidance for your vector construction.
Tips
Double check the aforementioned kerf constraint and respect the minimal distance between two lines.
Prepare your texts for Laser Cutting and Laser Engraving
It is possible to cut/engrave texts. These texts must be vectorized, just like all the files sent onto the website in order to be cut or engraved.
For laser engraving , the laser will contour each letter, which will "bolden" the font. Therefore, when you conceive your vector file, you need to:
Give priority to narrow fonts

Space the letters

Not write your texts too small (2mm minimum)
For laser cutting , it is key to take the kerf into account when designing your text. The texts must be treated like shapes: they must be vectorised and respect the same rules as every other shape (see tutorial).
As for full letters (A, D, O, B...) remember to create links between the inside and the outside of the letter (see below), so that the center doesn't get detached from the rest of the letter. These links are necessary if you wish to keep the outer part of the cut (we'll call it the stencil). So that your text looks best and harmonized, you can create similar links all over the text, even on letters that don't need them.
These links are really simple to create on your own, but you can also use a font like STENCIL, in which they already exist. You'll find such fonts with a simple internet search.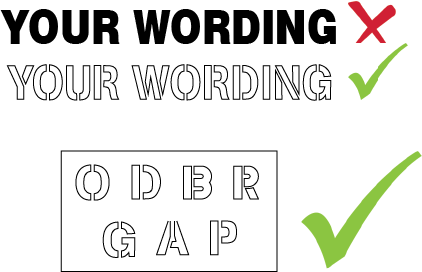 Tips
To get an approximation of the kerf, you can temporarily apply a 1,2 pt thickness to your letters.
Depth of Laser Engraving

We offer two types of laser engraving:
Line engraving : ideal to engrave a contour. It's the same operation as cutting, with less power. For this type of engraving, use our cutting tips when designing your file. On our website, only one line engraving level is available.

Surface engraving (also known as infill engraving): For this type of engraving, the outline of your design must absolutely be closed. We offer two levels of surface engraving depth: superficial or deep. With the superficial level, the cut can barely be felt by touch, whereas it is noticeable with the deep level.
Make sure you incorporate different colors in your vectorial design, according to whether you want a cut, an engraving line or a surface engraving.
Tips
Surface engraving requires a horizontal sweeping of the laser head, which can slow the process. Considering that manufacturing time can be an important price factor, we recommend you either choose a superficial engraving level or you limit your surface engraving to a few cm²
Assembly Guidelines
| | |
| --- | --- |
| Is assembly possible? | Yes |
| Minimum space required for assembly | Depends on the kerf |
The pieces that are cut can then be assembled. In order to do that you must plan for a minimum space between each of the pieces to assemble. This space must be larger if you want your pieces to be mobile. Make sure to build your design in a way that allows space for the kerf.


If you want your objects to fit into each other (for example a yellow acrylic square into a blue frame) you must take the kerf into account, which means subtract half the size of the kerf from the blue frame's parameter, and add the other half of the kerf to the yellow square, as you can see on the sketch below: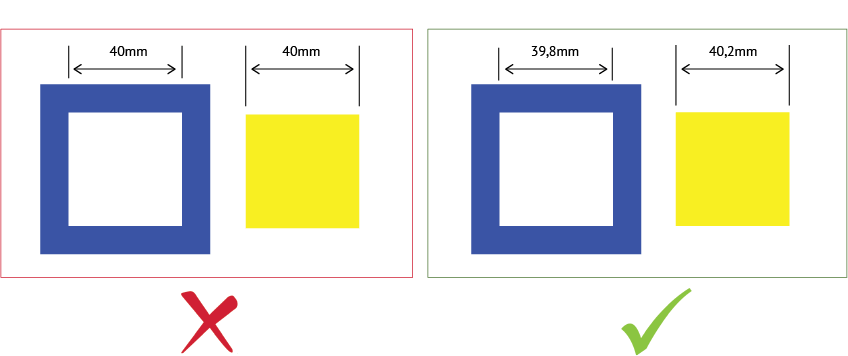 For more information on assemblies, we invite you to visit our tutorial on how to prepare a model for laser cutting on Illustrator or Inkscape.
Files with multiple objects
| | |
| --- | --- |
| Files with Multiple Objects ? | Yes |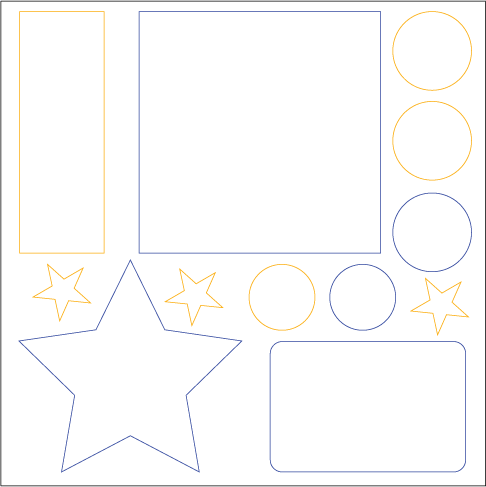 It is possible to cut or engrave several objects designed in the same vector file, by attributing one different color for each action, as indicated on the tutorial how to upload and prepare your 2D file.
Other materials available on Sculpteo:
Acrylic is a transparent thermoplastic that is widely used for its exceptional weatherability, strength, clarity and versatility. It is also known as PMMA as well as by the trade names Plexiglas,...

Technical engineering thermoplastic that is widely used in the automotive and industrial sector. It fits for technical uses: gears and hinges thanks to its exceptional resistance, thermic stability...

Steel has excellent strengh capacities and allows solid laser cutting parts. It is used in many industries such as engineering and building.