Mirrored Acrylic for Laser Cutting and Laser Engraving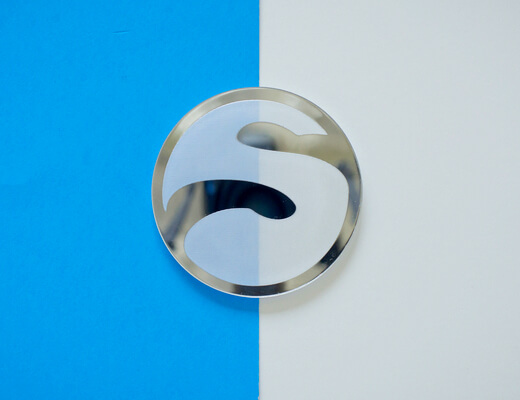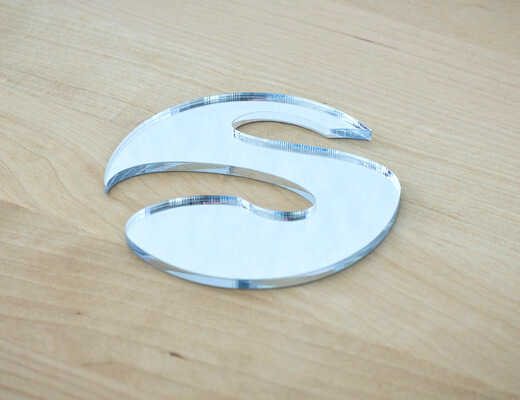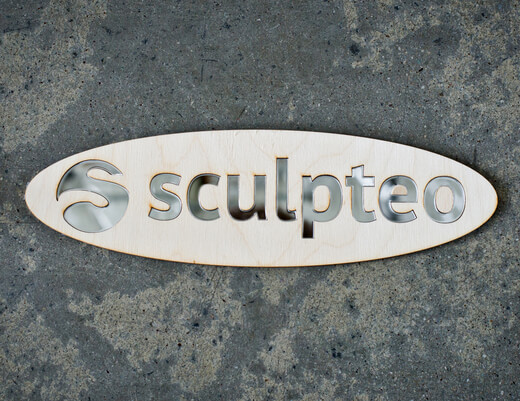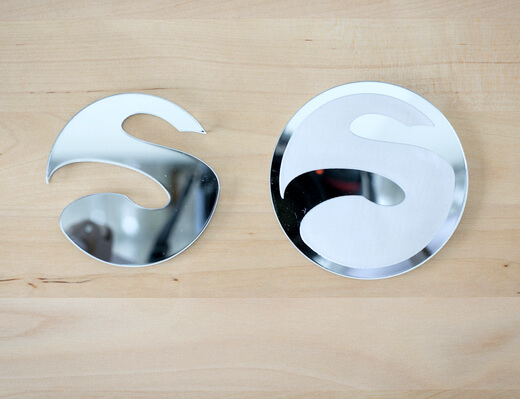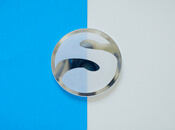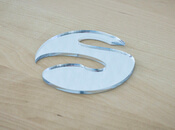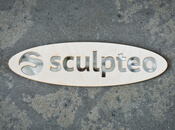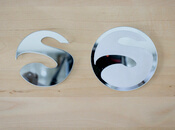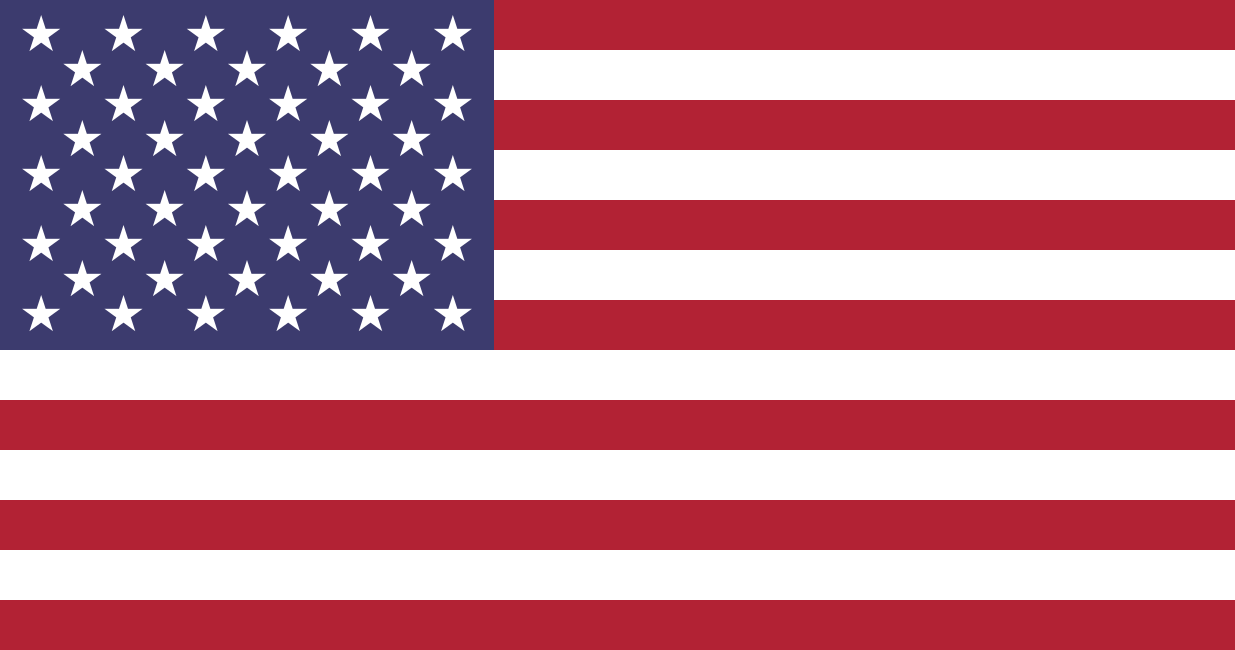 American Catalogue

Translucent White
Overview
Here you will find all the information, tricks, know-how, and advice to help you laser cut and laser engrave your model in our mirrored acrylic material. You will learn about:
General information on our material
Our Mirrored Acrylic Material
Our Mirrored Acrylic material is a clear acrylic covered with a mirrored film on the side. Mirrored Acrylic combines the beauty of mirror glass with the benefits of the acrylic material. What makes it stand out is its light weight and low production costs. On top of that Mirrored Acrylic is shatter resistant, as well as has high strength and impact resistance. Those properties of our Mirrored Acrylic make it much more safe than a glass mirror. However, keep in mind that Mirror Acrylic has less resistance to surface scratching than glass. Mirrored Acrylic has also great potential as it's flexible, although sometimes in a case of large surface slight deformation may occur.
Surface engrave on mirrored acrylic is something really specific. The mirrored film is removed after cutting and the surface will be semi transparent.
At Sculpteo we use acrylic sheets that were processed using the continuous cast method. Let's take a look at some of the benefits of Continuous Cast Acrylic (CCA):
Transparency - CCA sheets are made with the same process used to make sheets of glass providing excellent optical clarity, and high transparency
Strength

- CCA is easier to ship and handle as a result of its strength compared to other acrylic manufacturing processes



However, CCA can present some issues with thickness control, as it can have thickness variations that go up to 20%.
Please take a note that the laser cuts the plastic under a slight angle which may be visible on thicker parts.
Processing Times and Pricing for Laser Cutting and Laser Engraving
The price of manufacturing your acrylic design is calculated automatically the moment it is placed online. As you modify your object and utilize our optimization tools, you will note that the price changes automatically. The pricing is based on a series of factors, including: quantity of materials used, labor, and machine manufacturing time - to name a few.
For laser cutting, we have two different catalogues: one for the materials we produce in our factory in France, and one for the ones we produce in our factory in the United States. According to whether you choose materials in either or both of those catalogues, your shipping time and cost will be modified.
The time for cutting and engraving is approximately 4 working days when it's produced in the US. An additional period of 24 to 48 hours may be necessary depending on the size of your vector file. Based on the details of your engraving, the operation may take some time. The final time period is given on our website when you place your order.
Delivery time is added to the laser cutting and engraving time and depends on the delivery method you choose, on whether you order from the French or American catalogue and on where you are located.
Laser cutting technique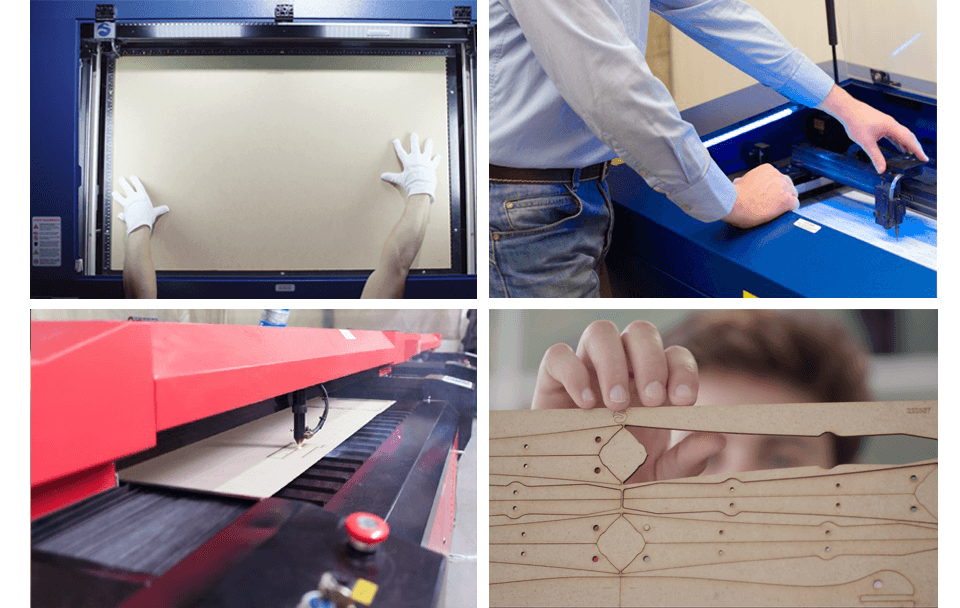 Laser Cutting is a digital subtractive fabrication technique that consists of cutting or engraving a material by means of a laser. Laser Cutting can be used on a number of materials such as plastic, wood, cardboard, etc. The process involves cutting material using a powerful and highly accurate laser that focuses on a small area of the material. The high power density results in rapid heating, melting and partial or complete vaporizing of the material. Usually, a computer directs the high-power laser at the material and traces the path.
Laser Engraving Techniques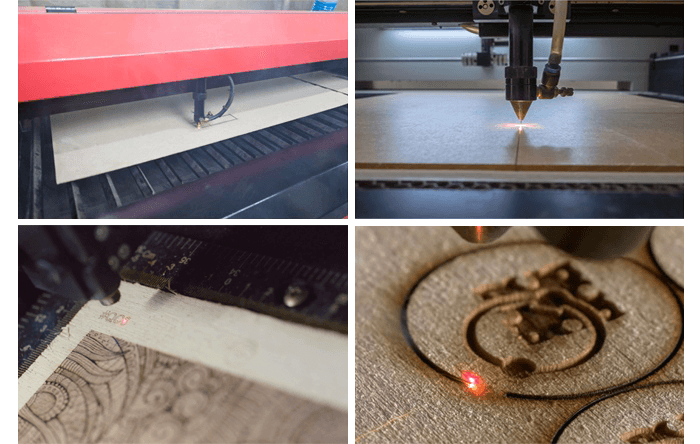 Laser Engraving (or Laser Etching) is a subtractive manufacturing method, that uses a laser beam to change the surface of an object. This process is mostly used to create images on the material that may be seen at eye level. To do so, the laser creates high heat that will vaporize the matter, thus exposing cavities that will form the final image. This method is quick, as the material is removed with each pulse of the laser. It can be use on almost any kind of metal, plastic, wood, leather or glass surface.
Uses and Maintenance

Mirrored Acrylic, is a material that has several benefits, both on its ease of use and on its durability. The technical properties of Mirrored Acrylic can vary depending on the thickness but will stay quite stable regarding shrinkage and tolerance. Our Mirrored Acrylic material can light up when exposed to LED lights, and is quite resistant to crazing and or cracking.
When cutting, Mirrored Acrylic's smooth surface allows for a perfect cut to be easily achieved. Moreover, glued, lit up, it is also a BPA-free material that is also weatherproof. Continuous cast acrylic is used for thousands of products due to its high quality, exceptional clarity, ease in processing and design flexibility. From displays to signage, medical devices, lighting, electronics and dozens of other applications.

Mirrored acrylic and glass mirror offer the same reflexion. However the acrylic has shatter resistant, impact resistant and lightweight properties, that make him safer than glass for lot of application. It is perfect to projects link to children or place where safety is first. Laser cutter offers the shapes you want, it's an easy way to create assemblies with reflective parts.
All acrylics are waterproof, that is to say, they are resistant to moisture and can be used in kitchens, bathrooms.
Mirrored Acrylic is easy to maintain. To clean your Mirrored Acrylic laser cut or laser engraved parts, simply use a mild soap and lukewarm water mixture with a clean soft cloth, do not use cleaning sprays. It is also recommended to avoid rough cloths, scouring sponges, lacquer thinner, and aggressive cleaning products.

Thickness and Finishing Options
Thickness
In our American catalogue:
Finishing options
Mirrored Acrylic is a material that lends itself to different types of operations. All our acrylic is impact resistant and half the weight of glass, it is also very easy to work with and can be sawed, drilled, routed, glued, silk-screened, and formed, which makes our mirrored acrylic is a great material for interior design projects.
Tips
For gluing you will want to use a solvent-based glue which will soften the surface of the mirrored acrylic as it welds the parts together, chemically bonding the two pieces into one.
Design Guidelines
Laser Precision for Laser Cutting and Laser Engraving
Laser cuts and engraves material by burning its surface therefore leaving a kerf. When burning the surface, the laser also leaves a kerf of a width that can vary, depending on the type of material and the thickness chosen.
When designing your project, you need to take this kerf into account, and plan for a surplus of material accordingly.
The following chart lists the kerf sizes for Mirrored Acrylic in function of the thickness in inches (U.S. Catalogue)
| Thickness of Acrylic (inches) | 1/8 |
| --- | --- |
| Width of the kerf (inches) | 0.0059 |
Maximum and minimum dimensions for cuts and engraving
In our American catalogue:
| | |
| --- | --- |
| Minimum dimension | 0.59 x 0.59 in |
| Maximum dimension | 32 x 18 in |
The maximum size of your designs is limited by the dimensions of the machine's cutting table. Your designs must abide by the measures below in order to be cut/engraved by our machines.
Minimal dimensions may be necessary for laser cutting, but not for engraving. When you load your design onto our website in order to have it cut, we can't detect, based only on the information contained in the file, whether you wish to keep the outer or inner surface. Therefore, if you wish to keep the inner surface, you must respect minimal dimensions. Indeed, if the surface is too small, it could be lost under the cutting table's grid. If you wish to keep only the outer surface, this constraint does not apply.
Warning
Be very careful to respect the minimum size of 0.59 x 0.59 in: objects of this size are all susceptible to not be delivered.
Warning
Disclaimer: due to the machine's process, some marks and scratches may occur on your object.
Minimum distance between two cut lines for Laser Cutting
Because of the kerf created by the laser, a minimum distance is required between two cutting lines, in order to prevent the lines from touching or mixing.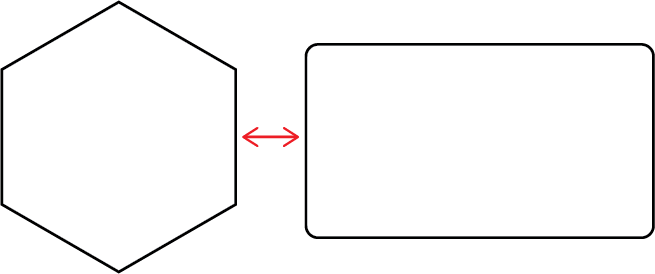 This table gives you the minimum distance not to forget in your design, depending on the thickness of the material:
| Thickness of Acrylic (mm) | 0.039 | 0.118 | 0.196 | 0.315 | 0.393 |
| --- | --- | --- | --- | --- | --- |
| Minimum distance between two paths (mm) | 0.039 | 0.118 | 0.196 | 0.315 | 0.393 |
You can refer to our tutorial for more precision and guidance for your vector construction.
Tips
Double check the aforementioned kerf constraint and respect the minimal distance between two lines.
Prepare your texts for Laser Cutting and Laser Engraving
It is possible to cut/engrave texts.
To be recognized by our interface, you must achieve a vectorization of your text. Once you've choosen the font in the vectorial drawing software, select your text and transform it in vectors. If you do it well, the text should appear on our interface as on your software.
To learn how to transform your text into a vectorized path, see our Inkscape tutorial .
For laser engraving , the laser will contour each letter, which will "bolden" the font. Therefore, when you conceive your vector file, you need to:
Give priority to narrow fonts

Space the letters

Not write your texts too small (2mm minimum)
For laser cutting , it is key to take the kerf into account when designing your text. The texts must be treated like shapes: they must be vectorised and respect the same rules as every other shape (see tutorial).
As for full letters (A, D, O, B...) remember to create links between the inside and the outside of the letter (see below), so that the center doesn't get detached from the rest of the letter. These links are necessary if you wish to keep the outer part of the cut (we'll call it the stencil). So that your text looks best and harmonized, you can create similar links all over the text, even on letters that don't need them.
These links are really simple to create on your own, but you can also use a font like STENCIL, in which they already exist. You'll find such fonts with a simple internet search.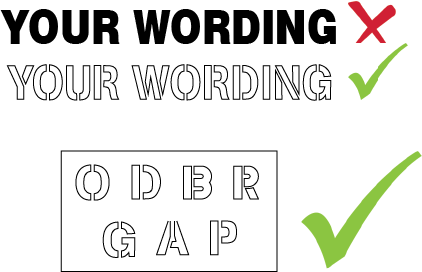 Tips
To get an approximation of the kerf, you can temporarily apply a 1,2 pt thickness to your letters.
Depth of Laser Engraving
We offer two types of laser engraving:
Line engraving : ideal to engrave a contour. It's the same operation as cutting, with less power. For this type of engraving, use our cutting tips when designing your file. On our website, only one line engraving level is available.

Surface engraving (also known as infill engraving): For this type of engraving, the outline of your design must absolutely be closed. We offer two levels of surface engraving depth: superficial or deep. With the superficial level, the cut can barely be felt by touch, whereas it is noticeable with the deep level.
Make sure you incorporate different colors in your vectorial design, according to whether you want a cut, an engraving line or a surface engraving.
Tips
Surface engraving requires a horizontal sweeping of the laser head, which can slow the process. Considering that manufacturing time can be an important price factor, we recommend you either choose a superficial engraving level or you limit your surface engraving to a few cm²
Piece Assembly Restrictions
| | |
| --- | --- |
| Is possible to assembly your parts ? | Yes |
| Minimum space required for assembly | Depends on the kerf |
The pieces that are cut can then be assembled. In order to do that you must plan for a minimum space between each of the pieces to assemble. This space must be larger if you want your pieces to be mobile. Make sure to build your design in a way that allows space for the kerf.


If you want your objects to fit into each other (for example a yellow acrylic square into a blue frame) you must take the kerf into account, which means subtract half the size of the kerf from the blue frame's parameter, and add the other half of the kerf to the yellow square, as you can see on the sketch below: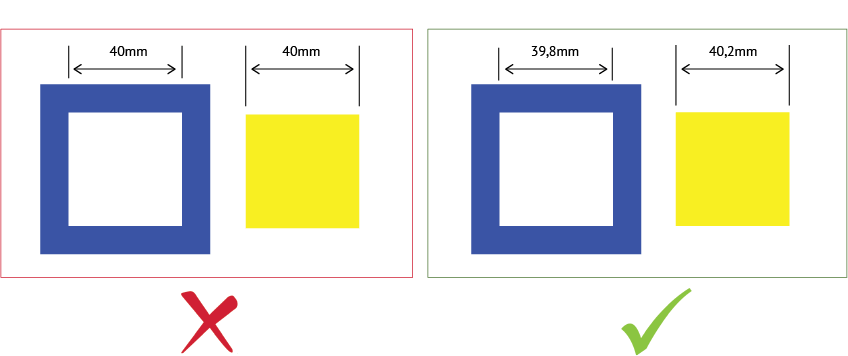 For more information on pieces assembly, we invite you to visit our tutorial on how to prepare a model for laser cutting on Illustrator or Inkscape.
Conceiving nodes in order to lock pieces together
If you wish to make MDF pieces fit into each other and make sure they'll stay connected, we recommend that you add in nodes. Nodes are small bumps situated in a piece's slots or tabs, that allow to compensate the thickness variations of the material and the kerf. Nodes get compressed when the pieces are assembled and they concentrate the friction on specific points rather than on the slot's whole surface. This way, the slots can be larger without coming apart, allowing the pieces to stay together.
In order to make sure the pieces stay fixed, you must place the nodes on each side of the slot opposite to one another. Depending on the length of the slot, you can place several nodes. This will minimize the tension that could potentially occur if the nods were not aligned or if one was missing. They must be smooth and long enough to ease the interlocking. Depending on the material's density, the nodes' width may be increased or decreased. The higher the material's density, the smaller the nodes' width should be.

On top of the nodes, it is important to adequately treat the end of the slots. Sharp angles are a weak point for acrylic, and will always fracture at the corner, where efforts get concentrated. A solution to this issue is to add a hole at the corner of each sharp angle. This technique allows to distribute the stress across the whole surface of the hole instead of just one precise point.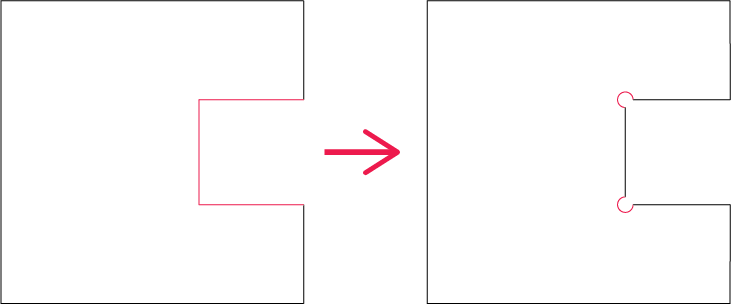 Files with multiple objects
| | |
| --- | --- |
| Files with Multiple Objects ? | Yes |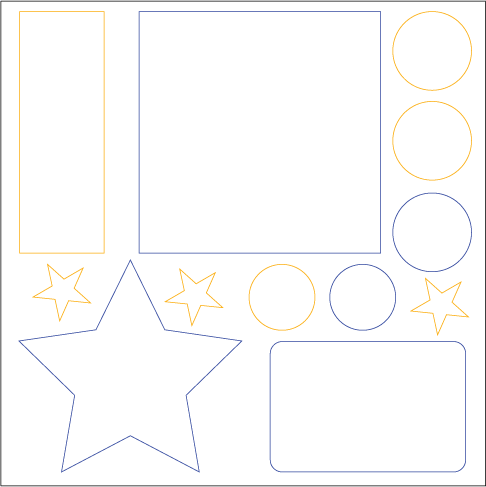 It is possible to cut or engrave several objects designed in the same vector file, by attributing one different color for each action, as indicated on the tutorial how to upload and prepare your 2D file.
Technical specifications
Mirrored Acrylic
| Mechanical Properties | Conditions | Unit | Value |
| --- | --- | --- | --- |
| Density | ISO 1183 | Kg/m3 | 1.19 |
| Swelling (24 hours) | ISO R 62/DIN53495 | % | 0.3 |
| Tensile Strength 23°C | ISO 527-2/1 B/5 | MPa | 76 |
| Bending Strength | ISO 178 | MPa | 110 |
| Internal Bond | ISO 604 | MPa | 110 |
To learn more about acrylics technical specifications, refer to the following documents:
×
Other materials available on Sculpteo: