3D Systems
3D Systems is a global actor of the 3D printing industry. Not only do they design and produce 3D printers but they also develop 3D scanners and softwares for 3D printing.
3Dsystems is based in Rock Hill, South California, US and employs over 2100 people for US$653 million revenue in 2014.
3D Systems
History
3Dsystems was founded in 1986 by Chuck Hull, its current CTO, when he patented the first stereolithography (SLA) 3D printer. After focusing on designing 3D printers for 15 years, it began diversifying in softwares with the ambition to be present in every single step from scanning to printing. 3d systems has also created and helped developing the STL file format.
In 2003, Avi reichental became CEO and kept developing the company internationally since it is now present in over 25 countries. The company is evaluated at the New York Stock Exchange (DDD).
3D Printer Manufacturer
3D Systems corporation is a leading 3D printer manufacturer and has three 3D printers categories: desktop (personal or small companies), professional and production. They master various technologies like SLA, SLS, CJP, FMD, MJP, DMP and DMPS. Learn more about the various 3D printing technologies .
3Dsystems produces printers that are able to create objects in various plastics, metals, ceramics and even edibles. You can find the materials Sculpteo produces thanks to 3DS printers and others on our material page .
At Sculpteo, we use some 3DS printers like the Projet 660 Pro for multicolor material. You can learn more about the printers we use and what's on the market by reading our guide to professional 3D printers.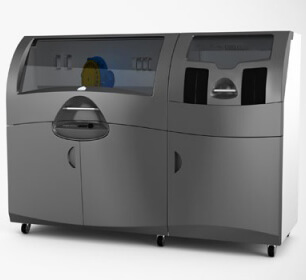 A projet 660 used by Sculpteo to print in multicolor
3D Software Developer
3D systems (DDD) develops various software for content creating, manufacturing and inspection applications. They also create support softwares for their printers.
Medical actor
3DS has became a major actor in the medical world by developing not only simulation tools but also by printing personalized surgery tools and dentals devices.
The 3D Printing Economy
3DSystems is taking advantage of the 3D printing market growth. Its 2014 Compound Annual Growth Rate was 35.2% to reach a US$ 4.1 billion market. A few top 3D printing companies (meaning 3D printers manufacturers here) are dominating this market. 3DS is one of them along Stratasys, Exone, Voxeljet and EOS. The 3D printing stock exchange is quite febrile and goes up and down. While some think it is a financial bubble, it seems that the steady growth rate of the market and the investors carefulness will lead to a quite trustworthy market.
If you want to keep updated with 3D printing news, follow our blog !
×