Stratasys : Company that makes 3D Printers
Stratasys is an American 3D printing company that manufactures 3D printers for personal and professional use, based on different technologies.Stratasys invented FDM technology, and its stock is listed on the NASDAQ under the name SSYS.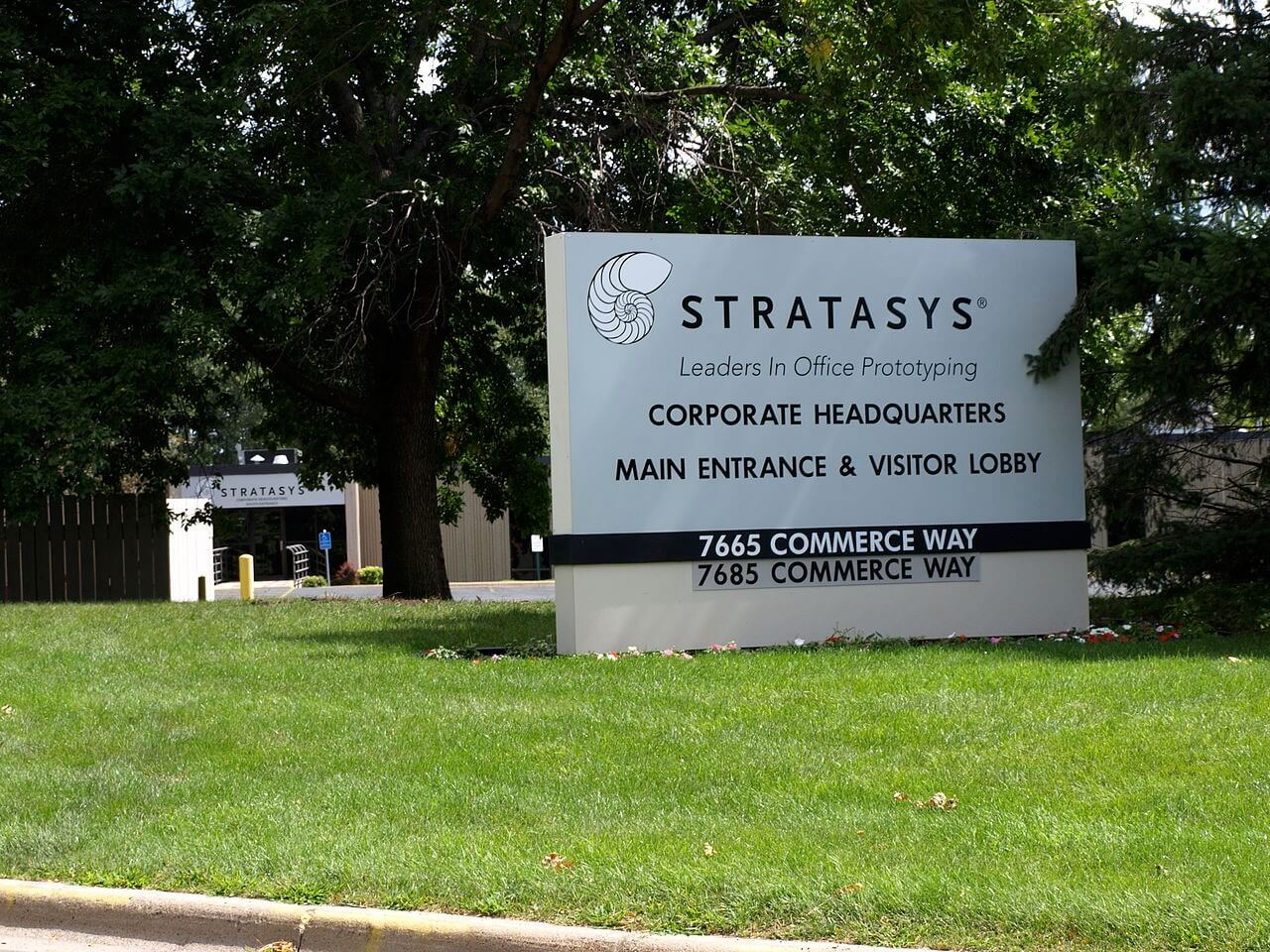 Stratasys' headquarters, one of the leaders in 3D Printing

The Stratasys Group combines many 3D Printing Technologies
Stratasys was founded in 1989 by S. Scott Crump. He got the idea for additive manufacturing while building a toy for his daughter using a glue gun with a mix of polyethylene and candle wax. He filed a patent for fused deposit modelling (FDM) and began to operate commercially in 1990.
FDM technology 3D printers had the most sales in 2003 and Stratasys held 44% of the worldwide additive manufacturing systems market in 2007.
In 2011, Stratasys acquired Solidscape, which makes 3D wax printers for lost wax casting applications. In 2012, Stratasys merged with Objet Geometries, the manufacturer of Polyjet and Multijet 3D printers.
In 2014, personal printer manufacturer FDM Makerbot announced that Stratasys had purchased it for $403 million.
Paradoxically, Stratasys is both an inventor of 3D printing as well asone of the sector's first companies to lose some of its key patents. Its primary FDM manufacturing patent became public domain in 2009, which enabled many players to develop FFF (fused filament fabrication) 3D printers. This is now the nameassociated to this technology when it does not belong to Stratasys.
The Stratasys group Manufactures some of the Best-selling 3D Printers in the World
Stratasys has developed a range of 3D printers for personal or professional use. Among the most famous are:
Makerbot Replicator (FDM)




Mojo 3D printer (FDM)




uPrint 3D printer (FDM)




Objet30 3D printer (Polyjet)




Objet Eden 3D printers (Polyjet)




Objet Connex 1, 2 and 3 3D printers (Multijet)




3D Dimension Elite printers (FDM)




3D Fortus printers (FDM)
You can learn about the features of Stratasys 3D printers in our professional 3D printer guide. They are used to prototype and manufacture production parts for industry, aeronautics, dentistry and for the medical industry in general.
The latest versions of Stratasys' FDM printers can print high-performance materials, which is the case with their Fortus printers that can perform 3D printing in materials such as:
ULTEM




PC-ABS




Nylon




PC-ISO (to make biocompatible parts)



These belong to the list of the various ABS plastics traditionally associated with FDM printing. Rather than focusing on continually-improving 3D print resolution like many of their competitors (by using a reduced layer thickness), Stratasys' focus remains faithful to developing its products' usefulness, reliability and the performance of materials.
The Stratasys Group is one of the Top Companies in 3D Printing
The Stratasys Inc. Group supported and played a significant role in creating the worldwide 3D printing sector. It is one of the most important companies in this sector today. With a market valuation of several billion dollars, Stratasys is one of the top three 3D printer manufacturers on the world stock markets along with 3D Systems and Ex-one.Like other listed companiesin this sector, Stratasys Inc. stock saw strong fluctuations at the end of 2014.
Involved in 3D printer manufacturing since its creation, the Group also provides services related to these machines. Recently, Stratasys purchased Econolyst, a specialised consulting firm in additive manufacturing, to create its Stratasys Consulting department.
As a 3D printing service, Sculpteo uses many Stratasys 3D printers, particularly for printing resin material. To compare the various materials offered by Sculpteo, please refer to our materials page. To help you navigate through our offerings, we have also prepared a guide to help you choose the right material for the right application.

If you already have a 3D file, why not upload it to our 3D printing platform.
×