3D Printing Speed
3D printing speed is contingent upon the height of the material manufactured (or the height of the layers constructed) in a given period. It also depends on many factors like the printing technology, the material and the printing resolution. Increasing the printing speed is one of the main challenges in 3D printer manufacturing.
3D Printing Speeds vary according to the Additive Manufacturing Technologies
Additive manufacturing includes a variety of technologies and methods that don't have the same printing speed. Factors influencing speed include:
The

print nozzle's

temperature, the material to heat,

filament

thickness,

layer thickness

, and the number of

supports

required for FDM technology.




The size of the drop, the laser power and the material for SLA and Polyjet/Multijet technologies.




The laser power,

the layer thickness

and the material for powder sintering technologies



But one of the most important factors is the part's orientation and the amount of material to print in 3D. In fact,the model can be oriented in a way to minimise the part's height and reduce the printing time. And a large 3D model will take longer to print than a lightweight wire structure.
The table below compares 3D printing speeds by 3D printing technology (data provided by 3D printer manufacturers).
| | | |
| --- | --- | --- |
| Technology | 3D Printer Model | 3D Printing Speed |
| SLS | EOS P396 | Up to 48 mm/h |
| SLA | Projet 1200 | Up to 14 mm/h |
| DMLS | EOSINT 280 | 2 to 8 mm3/s |
| FDM | | 50 to 150 mm/h |
Our guide to professional 3D printers identifies their main technical characteristics, like the layer thickness and the materials available, which will give you and idea of printing speeds.
Carbon 3D received huge media coverageby producing a stereolithography machine with printing speeds up to 25 to 100 times greater using their patented technology. Below they present a comparison of the time required to manufacture a complex part.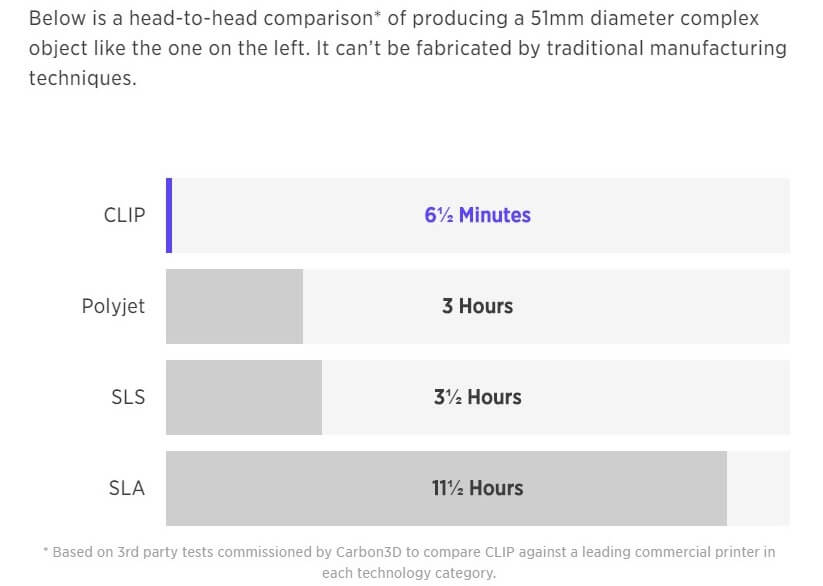 Source : Courtesy of Carbon 3D
The 3D printing speed is important, but not the only factor considered when calculating the printing time required for your 3D model on Sculpteo. Verifying and preparing your 3D file before printing, the cool down time, the finishing processes (polishing, dyeing, painting, etc.) are all taken into account.
To learn more about your part's delivery time, please refer to this timeframe explanation page or upload your 3D file .
×