Rhino 3D software: 3D Modeling Software for Architecture and Industrial Design
Rhinoceros 3D, also known as "Rhino 3D", is computer-aided design software. Rhino CAD is used primarily in architectural trades, industrial design and jewellery design.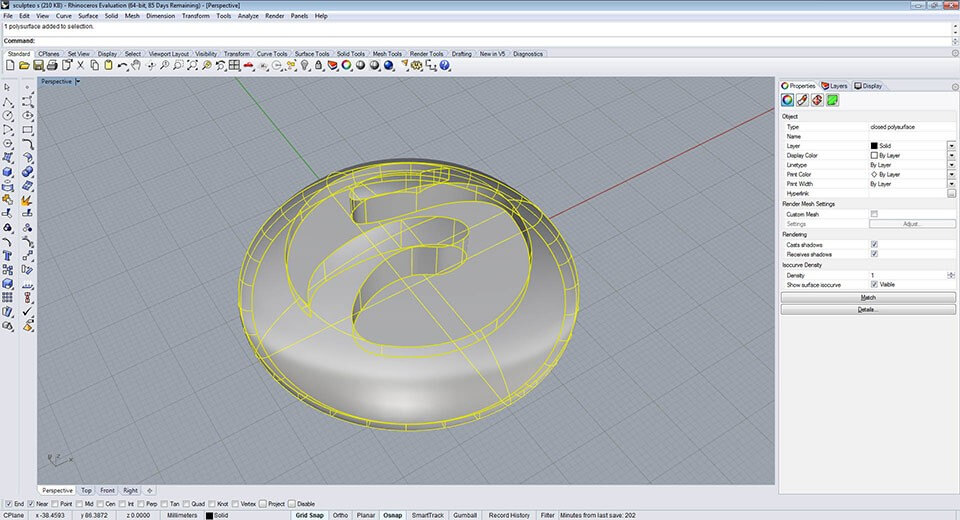 Rhino 3D: Software developed by
Robert McNeel & Associates
Rhino software is developed by Robert McNeel & Associates. The software user licence costs about €1000, but a 90-day free trial of the full-software version of Rhino 5 is available.
Using Rhino software
Rhino 3D uses the modelling by curves technique (NURBS). With this technique, you work with curves when modelling rather than by linking polygons. You therefore create your three-dimensional surface by manipulating curves. This kind of modelling uses adaptive mesh, which enables you to optimise the number of faces forming the object's surface. This modelling technique is the most accurate there is. To learn more, you can refer to our page about 3D modeling.
Rhino and 3D printing
Rhino 3D provides various functions to make a file printable in 3D. Here are a few:
Mesh: many file formats used in 3D printing use polygonal mesh in their design. The "Mesh" function available in Rhino software allows you to modify a part designed using NURBS in polygonal mesh. This is especially useful in order to export the model into polygonal mesh file formats like STL and OBJ, which are accepted on Sculpteo's website.




"Difference": Rhino allows you to perform Boolean operations (addition and subtraction of volumes). This way, you can create closed volumes suitable for 3D printing.




Join: In 3D printing, two parts of an object must be attached in order to obtain a single object. Using the "join" function merge the intersections of two volumes in order to create a single object.




"Test Solid":A model can only be printed if the modelled object is closed. This function will identify "open" modelling". The

"Show Edges"

command will help you locate the open sides so the modelling can be easily corrected.



To learn more about repairing files for 3D printing, please refer to our Repair your 3D File page.
3D Rhino file formats
The Rhino 3D file format uses the extension (.3DM). You can export your Rhino 3D modelling into many formats accepted on the Sculpteo website (insert link to the Resources menu and list of acceptable formats). When finished your modelling, you can then export the file into formats such as 3DS (3D studio), DXF (AutoCAD), SKP (Sketchup) and IGES. Before doing so, make sure that your target format supports colours and textures.
If you need help preparing your 3D file for printing, feel free to consult our Rhino Tutorial.
×