3D printing with steel
Steel is a material made of both iron and carbon. The alloy of these two pure materials is done in variable proportions. The carbon content may be between 0.02% and 2%. 3D printed steel is a material obtained by superimposing fine layers of steel. 3D printed steel enables you to make parts for very technical applications that sometimes perform better than those manufactured by traditional methods.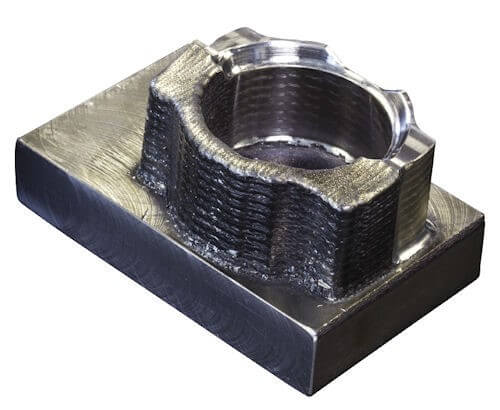 Image - Courtesy of DMD 3D
Methods and uses of steel 3D printing
3D steel printing, as well as 3D metal printing, is not the only kind of single additive manufacturing technology. There are many technologies used to print steel in 3D, including:
Each of these technologies has its own steel parts additive manufacturing method,making them appropriate for applications ranging from fantasy parts to very technical applications.
The benefits of steel 3D printing
The main advantage of steel 3D printing is that parts can be made without going requiring forging or machining. With DMLS and DMD technologies, very resistant parts with a high quality finish can now be printed.
Aeronautics was the first sector interested in steel 3D printing, to repair complex, expensive detached parts rather than replacing them. The MX3D development project is to 3D print a metal bridge directly over a canal. Automated steel 3d printers are used to work directly on site.
Our eBook "4 sectors in which 3D printing is key" provides 3D printing application examples for metal.
Cost and alternative solutions to steel 3D printing
Although very widespread in the global 3D printing market, steel 3D printing still encompasses very expensive technologies. The price of steel 3D printing is a direct result of three factors: the price of 3D printers capable of producing steel, the cost of materials and the need for highly skilled labour to program the machine in order to define the print settings (placing 3D printing supports in some cases, defining the layer thickness , orienting the part within the production volume, etc.).
Similarly to steel 3D printing, other metals can be 3D printed using these same technologies. It is now possible to print metals such as aluminium, titanium, cobalt-based alloys, nickel-based alloys, etc.
Online quotes for steel 3D printing are not available on the Sculpteo site but you can contact our sales department to examine your project.
×